Alrighty, it's finally time for the recap of my amazing night with the best band in the world! I put the setlist near the bottom of the post. For a complete photo album, check out my
Facebook photos
.
As soon as Muse made their new Southeast US tour dates public I marked my calendar for the day the Nashville tickets went on sale (April) and snatched them up as soon as the fan pre-sale began. It's a little over a couple hours away for me, and the show was on a Friday night, so it worked really well. I also entered the contest (with that stupid orb game--some of you know what I'm talking about) to win a chance to meet the guys and whatnot in Atlanta, which would've been the Wednesday before. Obviously I didn't win. But there's always next time!
So I drove over to Nashville Friday afternoon, as soon as I was done teaching for the day. I got really confused because I was leaving at 3:00 and my GPS said that I would arrive at 4:15.
Okay, maybe Google Maps was off a little bit in the time estimate
, I thought to myself. But once I got on I-40, it said I'd be on it for 153 miles.
I can't go that far in an hour and 15 minutes! What is going ON?
Then it occurred to me. Nashville is in
Central Time
. My GPS was telling me my arrival time in the tie zone of my destination. Finally convinced that I wasn't going crazy, my brain resumed its normal chatter as I drove west to Nashville.
When I got to my hotel (Double Tree--yay, cookies!) I got settled in and waited for my friend Julia (my bestie who was driving in from Virginia) to arrive. After she arrived we both took showers and then did some taxi research. Now, for those of you who don't know, we had
terrible
luck with the taxi company we chose when we went to see Justin Timberlake and Jay Z in Baltimore. Well, things weren't much better this time. The dispatcher didn't cut us off and hang up on us (twice) like in Baltimore, but the cab driver got really exasperated when we told him we were paying by credit card. We
specifically asked
for a cab which took credit cards when we made the reservation but this guy's credit card reader wasn't working. So he's complaining and going "Are you
sure
you don't have any cash?" I did have cash, but I wasn't about to use it because he
should've
had a working card reader. If your reader isn't working, you
tell your supervisor
so they don't send you to a customer who wants to pay by credit card. Isn't that a simple concept? Anyway, he got a very low tip because he practically treated us like it was all
our
fault.
We finally got to the Bridgestone Arena. I took a few pictures while outside, because downtown Nashville is so bright!
Julia and I had VIP tickets that I purchased through the MUSE website. The "VIP" label meant that we got primo seats in the first few rows of the lower bowl, we had access to a pre-show party with special merchandise and dinner, and we got some freebies (water bottle, tote bag, limited edition poster). Will I be using that tote bag and water bottle every day for work? You betcha!
Getting our actual tickets was a bit confusing. My paperwork said to go to Will Call, then go check in at the VIP table. Well, Will Call didn't have our tickets; the VIP table did. So why did the paper say to go to Will Call? Anyway, we went to the VIP table (which we passed to go to Will Call), got our goodies, and then attempted to find the VIP party. More confusion ensued.
After asking for directions, we
finally
found the "party." It was in a small, dimly lit room near the entrance to the floor seats (well, not seats, because it was standing only on the floor...but you know what I mean). There was a huge backdrop with "MUSE" on it, with lights all around and different images showing in the word MUSE. Here's a slightly fuzzy picture of it:
The room had blown up professional photos of the guys from earlier on the tour. There was no seating; only tables made for standing at. There were also TV screens showing live footage of the band (it later occurred to me that this was from H.A.A.R.P.). As we walked in they were playing Take a Bow, then the video started over.
The "dinner" was nachos and an assortment of toppings (salsas, guacamole, a big vat of queso, sour cream, and a big vat of chili). There was no VIP shopping area with special merchandise that I could see, but that's okay. I didn't really plan on spending any more money than I'd already spent anyway!
Dinner
Julia got us drinks with double shots so I quickly ate some nachos and chili to absorb some of the alcohol! ;-) While we were standing around feeling underwhelmed by the "party," this tall guy came over and remarked on how odd it was to be showing live footage of the band at a pre-concert party. We agreed and he asked what we'd prefer. Actually, he asked
me
, kind of ignoring Julia. I couldn't think of anything besides music videos. Julia suggested interviews with the guys, which I think is a great idea. We chatted a bit more and then he left us to go back to his group of friends. It was sort of weird because I felt like we were being interviewed by a member of the media or something. He had a VIP wristband like we did but he was also wearing some kind of lanyard.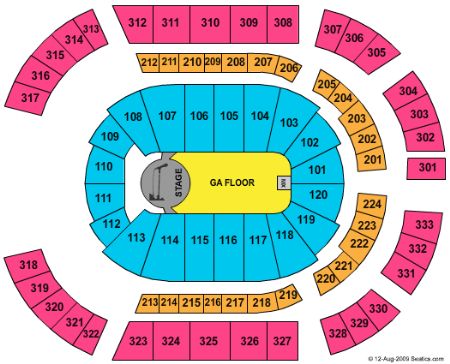 Anyway, I ate a little more and then we headed out. As we left, a nice gentleman who worked there told us how to get to our seats. Once we got to our seats (front row of Section 105) we met a young girl who had a custom tee shirt like mine--it said "I
♥
MUSE" and had the show location and date and whatnot. She said her dad brought her. I marveled at this because my dad would
not
take me to a Muse show! :-D We struck up a conversation with the girl and found out that her name was also Julia. Her dad came back from wherever he had gone and we told him how cool he was for bringing his daughter to the show. He said if he wasn't also a fan, he probably wouldn't have done it!
Throughout the show I told Julia (bestie) what some of the songs were, since she only owns the two most recent albums. I also filled Julia (teen) in on a couple (Agitated and Neutron Star Collision) because they were from albums she didn't have.
They had the pyramid and showed ninja Dom but he didn't change into his red suit. I was disappointed... But I'm so glad they played Agitated, since I'd heard that Charlotte and Atlanta got it. I was hoping for New Born, Animals, or Undisclosed Desires but alas, none of them were played. I did get some other faves, though--Panic Station and Supermassive Black Hole. I stood almost the entire time, which is a big deal for my tired, old feet. I only sat down twice! And before I went to bed Julia (bestie) made me take Advil so my feet wouldn't hate me the next day. Thanks, Julia!
So about 4-5 songs into the show I realized I hadn't been keeping track of the set list. Thankfully Julia (teen) was. I gave her my email so she could send it to me. Also, it was posted on one of my Facebook Muser groups so I could double check everything. Glad it all worked out!
The show was AMAZING, as if we would expect anything less from our boys. :-) The show started out with the pyramid on the floor, and they showed video as Isolated System played. Then the pyramid went dark, turned red, then began to rise. The band played Supremacy as this all took place. During the show the pyramid changed shapes and whatnot, showing different images depending on the song. For Madness Matt put on the word glasses and the lyrics also showed up on the pyramid. For Survival the faces singing "So I...told you..." and "You were warned and didn't listen" showed up.
There were no guitar-throwing or amp-destroying antics at this show unfortunately. The most we got was Matt spinning the amp around and causing a mini light show during one song (can't remember which one it was, sorry).
When Matt went to the piano I got really excited. I love it when he plays piano! Then I was
so shocked
when they played Neutron Star Collision. Some fans don't like it because it was used for one of the Twilight movies, but it's still a beautiful song. And Matt didn't write it
for
Twilight as some people think. According to the article about the song on
MuseWiki
, Matt wrote it about a girl he'd broken up with a few months prior.
Anyway, back to the music. Here's the setlist:
Isolated System
Supremacy
Supermassive Black Hole
The Star-Spangled Banner + Hysteria
Panic Station
Resistance
Man with a Harmonica + Knights of Cydonia
Montpellier Jam + Feeling Good
Follow Me
Neutron Star Collision (Love Is Forever)
Liquid State
Madness
Time Is Running Out
Unnatural Selection
Agitated + Freedom outro
Uprising
Encore
Unsustainable
Starlight
Survival
Other interesting tidbits: There was this guy sitting behind us who totally hit on Julia (bestie), which is weird because he was sitting with his girlfriend. At least, we assume it was his girlfriend because apparently he had his arms around her the whole show...
Before the show Julia (bestie) was remarking how cute this guy was who was on the floor in front of us. She tried to inconspicuously take his picture (from behind) with her phone but the flash went off. He actually turned around and said something like "Did you get a good shot?" I nearly died laughing.
Also, the nice gentleman from VIP who told us how to find our seats showed up on the floor about halfway through the show. We talked to him afterward. He said once he was done at the VIP room he was able to come out and watch the rest of the show. He also said he had as much fun watching us as he did watching the band. It wasn't as creepy as it sounds, I promise... Anyway, we shook his hand and made our way out.
I then slept like a
ROCK
because I had jumped, sung, and screamed my heart out for those boys. Did I mention that I love Muse? Because I kind of do. I hope you do, too. :-)